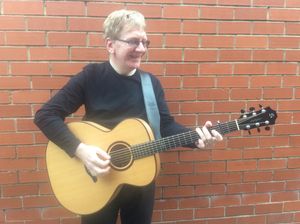 Acoustic Guitar Lessons
How much do lessons cost?
1 hour - £20 - recommended for experienced players and some adult beginners and improvers
40 minutes - £16 - recommended for adult beginners and improvers
30 minutes - £13 - recommended for children who are beginning to play
Please get in touch if you would like to arrange an initial lesson to discuss your guitar playing goals and get you on the road to achieving your musical aims. 
Lessons are usually held weekly, although fortnightly lessons can suit some busy adults/experienced players. For those who work irregular hours or days, or have caring commitments, flexible arrangements can be made. 
Lessons can be online using Zoom or in-person lessons offered for local players.
When using Zoom, the initial online lesson is very useful to ensure that you can get your PC, laptop or mobile phone working well with the Zoom app and sample how an online lessons work.
30 minutes is usually a long enough lesson for children who are beginners, but 40 minutes is required for adults and teenagers who are making good progress. An hour is best for more advanced players and beginners/improvers who are keen to progress. 
Ask about joint lessons or flexible short courses. Block bookings of up to 4 are welcome, but most people pay for their lesson each week, and that fine by me.
I prepare song sheets, tablature/sheet music, chord diagrams etc for lesson and email these to students as required. Online lessons are supported by sharing materials on screen and recordings of exercises and pieces can be made and links sent to students.
Payments are by bank transfer or cash for in person lessons if preferred.