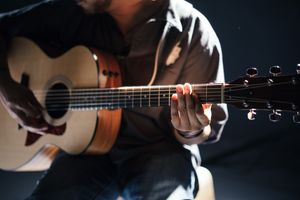 Play and Sing
Do you want to play and sing? 
Co-ordinating singing and playing doesn't come easy for most people, but I can help you achieve it. Do you want to learn to sing harmonies and back-up vocals when playing with others? These are skills that can be learned and as a guitar player, need to be co-ordinated with your playing. 
To sing and play at the same time successfully, you need to be a solid guitar player with good timing. This applies equally whether you are playing in a band or playing solo. If you are playing solo, however, you have no other instruments to hide behind! 
The importance of playing to support and project the song applies equally whether you are the singer or you are accompanying someone else's singing. Good players let the song shine through. 
Lessons will explore these aspects of guitar playing, opening up insights into song structure, music theory, harmony and performance. Building this knowledge, whether you choose to learn to read music or not, will make you a more effective musician. This is also invaluable for budding songwriters.
Vocal coaching is offered for those who sing and play and are starting to perform - this is only available for singer/guitarists.
If you are aiming to step forward at an Open Mic session I will help you get ready and work up the songs that you want to perform.